About Joseph Bryan Park
Overview
Joseph Bryan Park is a 262-acre City public park in Richmond's Northside. It is cut-off from the City on three sides by Interstates, so access is limited. The Park's main entrance is on Hermitage Ave, between the I-95 overpass and Lakeside. Look for its large Granite memorial gate. There are several smaller entrances into the Park from Bryan Park Ave, on the northern side of the park.

Bryan Park was once a rural farm; not very productive but endowed with a wide variety of landscape features: two large ponds (one with a waterfall); three streams, rolling hills, grassy open spaces and large trees. The main entrance is a massive granite gate erected by the City to honor the Bryan Family, who gave the park to the City in 1910. Adjacent is the Keepers House (ie gatekeeper's house), the Park headquarters, and a refurbished greenhouse. Bryan Park has a surprisingly rich history!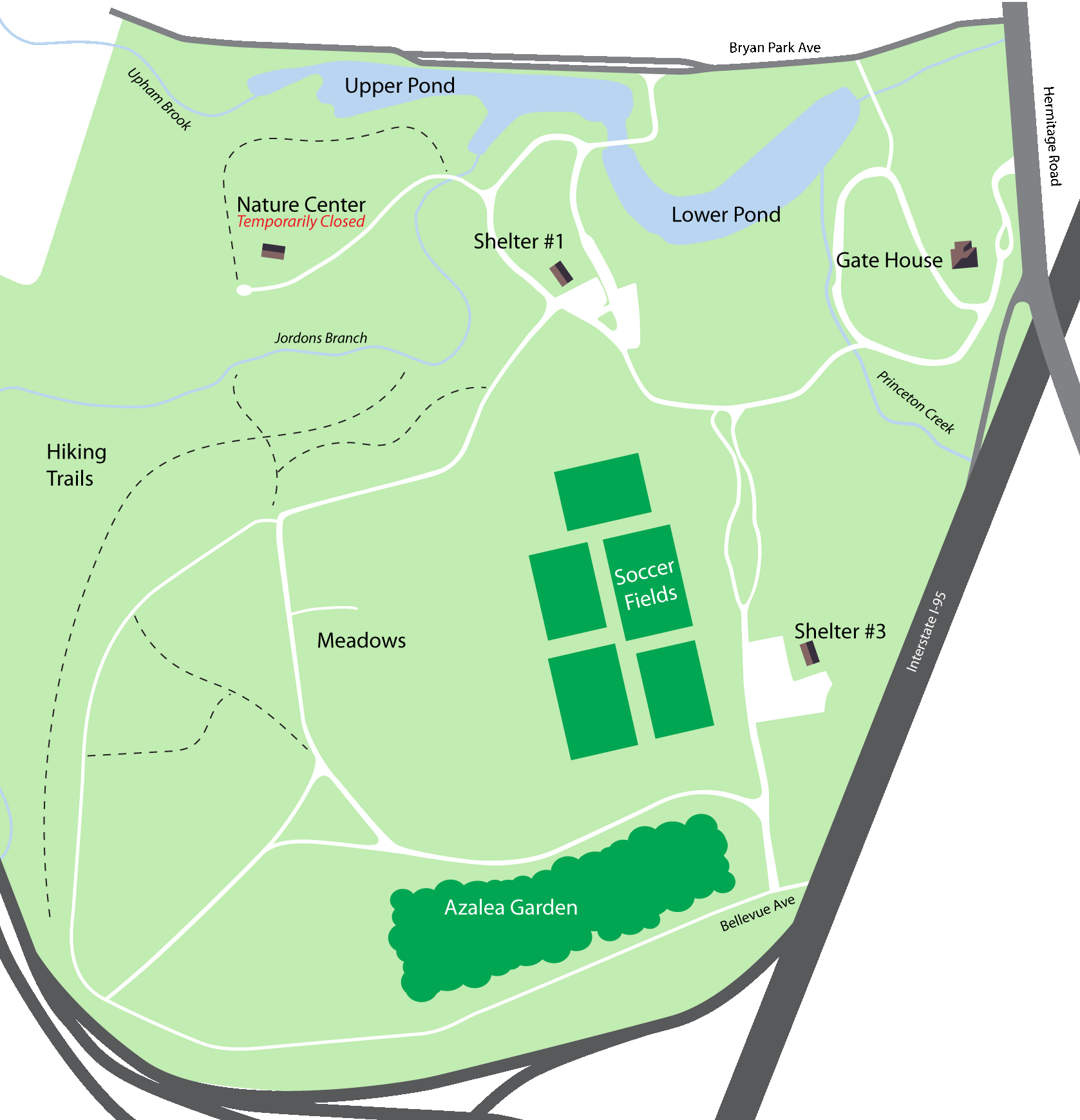 The center of the park, a raised plateau, includes 5 soccer fields, an 18-hole disc golf course, 4 tennis courts, a large playground, and two picnic shelters (Shelter # 1, overlooking the Upper Pond, and Shelter # 3, between I-95 and the Soccer complex).
The southeastern part of Bryan Park contains its famous 17-acre Azalea Gardens and an attractive fountain pond. The western portion of the park is wooded, with a Nature Center and native plant and pollinator garden it its Nature Preserve.
Please Note: The Nature Center and its educational programs are temporarily closed, but the Native Plant and Pollinator gardens are open to walkers and visitors
There are three main parking lots in Bryan Park; picnic tables and benches are scattered throughout the park, and most of the back roads in the park are closed to vehicular traffic, providing miles of traffic-free walking, running, and bike-riding. There are a few trails through the woods, and west of Jordans' Branch stream, the Nature Center area, with its native plants and wildlife habitat, is worth a visit. Brown signs throughout the park point to its location.
Bryan Park opens at sunrise and closes at dusk. For additional information, and Park rules and regulations, contact Richmond's Parks and Recreation Department at 804-646-5733
Dogs are allowed in the park and ALL pets MUST be on leashes! NO dogs are allowed in the Azalea Gardens, and ALL owners MUST pick up their pet's poop!
Please Note: There IS a dog park in Northside Richmond. Visit their website.