About the Friends of bryan part
Bryan Park was gifted to the City of Richmond in 1909 from the family of Joseph Bryan. The City accepted the gift and committed to the perpetual care of the park, "to be used by all the people".
In 1994 a proposal was put forth by then Richmond City Manager Robert Bobb to convert Bryan Park into a 9 hole Golf Course and a Tennis Center. Bryan Park had been neglected for many years prior to this golf course proposal. The once nationally famous Azalea Gardens were a sad collection of weeds, vines and barely alive Azaleas. The picnic shelters were barely used and the park itself was considered unsafe. It seemed like Bryan Park was the perfect place to destroy to create another golf course.
A group of concerned citizens, neighbors and park enthusiasts came together to form the Friends of Bryan Park to oppose the golf course plan. Holding community meetings, addressing the City Council, enlisting political allies, inviting media and offering tours of the park, the golf course proposal was defeated in 1995.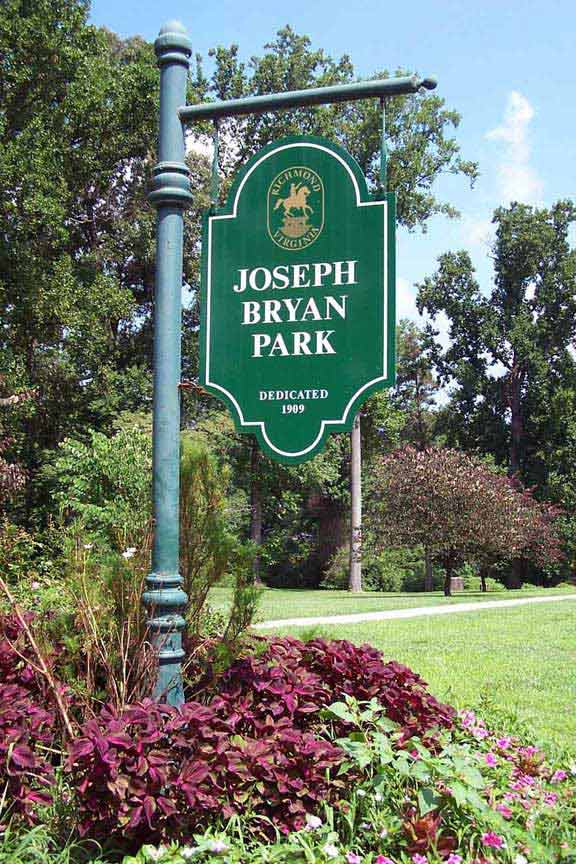 Since then, the Friends of Bryan Park have advocated for Bryan Park. As a 501 (C) (3) non-profit, the Friends, with countless hours from tirelessly working volunteers, have made massive improvements to the Park. Among other projects, we established the Adopt-A-Bed program to rejuvenate the Azalea Gardens. With great volunteer help, the Azalea Garden is slowly regaining its status as the premier park attraction. The Park has a Soccer field complex for tournaments and practice. There are pickleball courts, a disc golf course, a playground, trails, picnic shelters, native plant gardens, a purple martin homestead, and opportunities for a peaceful nature experience. Our latest projects include tree plantings, new native plant gardens, and the renovation of the Azalea Garden pond.

The needs of the Park are daunting. We depend upon donations from friends, neighbors and park enthusiasts tor funding for our projects. Please consider a donation to the Friends of Bryan Park today.